Welding caps are stays put caps with soft bill and padded sweatband that wicks moisture and absorbs sweaty drips. Available in four popular sizes. The cap has a protective bill, a smooth, round crown with elastic enforced staying power making these welding caps practical.
Welding Caps with Comfort Bands
Welding caps with padded sweatband that wicks moisture and absorbs sweaty drips. Sizes avail.
Welding Caps that Fit in May 2023
Welding caps that fit with four sizes available you are sure to find a good comfortable one. Round crown eliminates a bunch of seams to crunch into your head. Bands wick moisture away and absorbs it for sweaty head relief. All handcrafted from Rawls-Riley Creations. Custom requests welcomed.
Creative Commons Music by Jason Shaw on Audionautix.com.
Available Welding Caps
Check out the available welding caps below. If you don't see what you are looking for, please press here to contact Rawls-Riley Creations for assistance.
Nomex® Heat and Flame Resistant Welding Caps
Welders, pipefitters, power plant workers and many more will definitely want to consider the added value Nomex provides to welding caps. Made with Nomex® fabric, the heat and flame resistant properties only available with DuPont's Nomex® brand fibers. The material is made by Stern & Stern Industries, Inc. Certificate of compliance is provided with the headwear.
Headwear includes welding caps, do rags and hair bag® do rag for those needing welding caps for long hair.
Funky Welding Cap
At Cassoday, he spied the welding caps right away and made sure he stopped to take a look at them. He explained he had been welding for 30 years and is always on the lookout for caps that stand out and really looked funky. While he saw several that could work, it was the one with apples on a bright, yellow that he took home with him that day. Paul was happy to do the picture.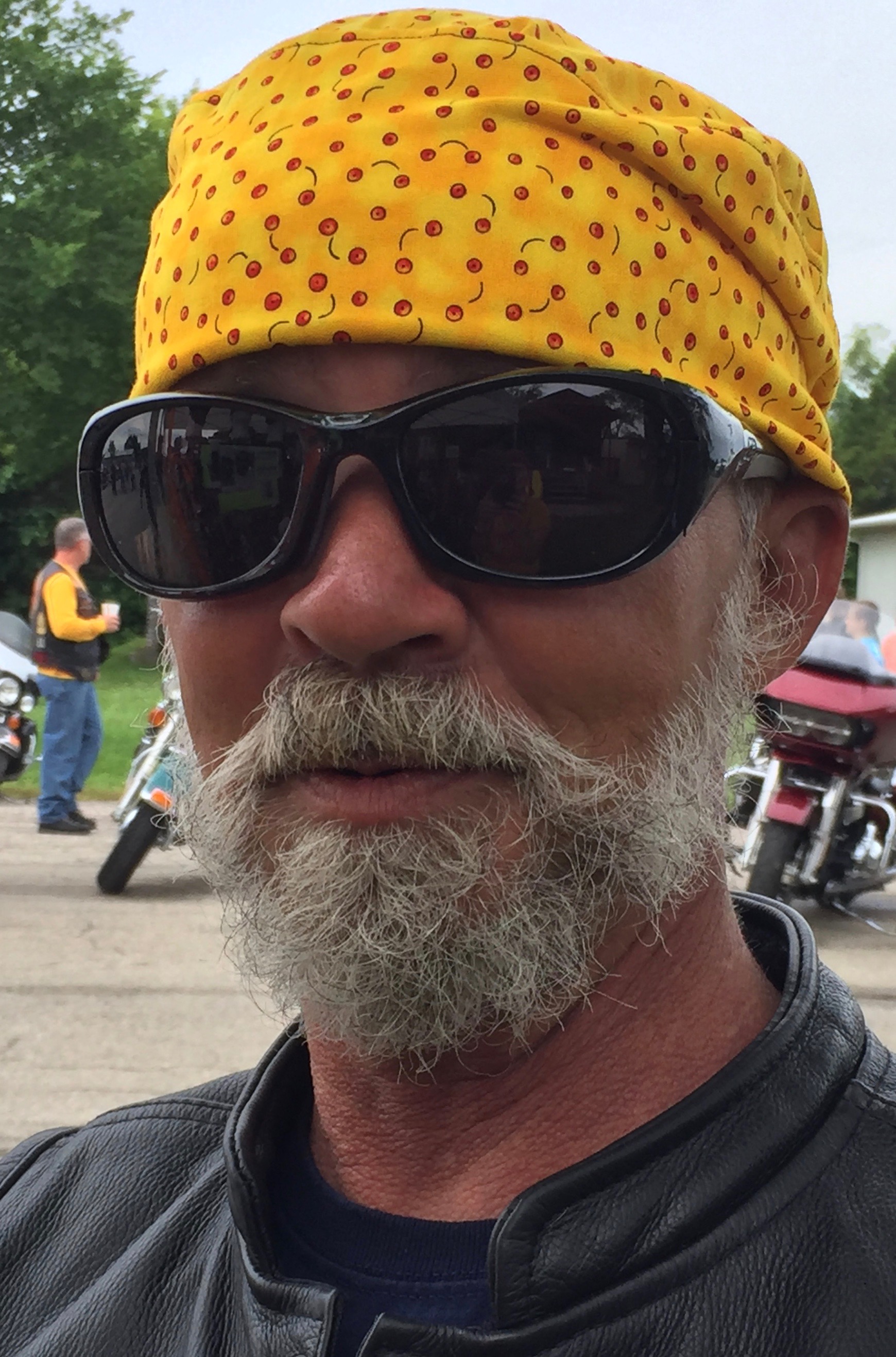 At the Bikes, Blues and BBQ Rally, our neighbor selected the US Navy welding cap his first day at the rally. The next day he stopped by to report that he rode his bike home with his cap on and back again today and he really liked the way the cap stayed on just fine.
He let me take his picture and he looked very nice.
He share his success with the cap with some of his buddies and they made sure they stopped by for a cap, too.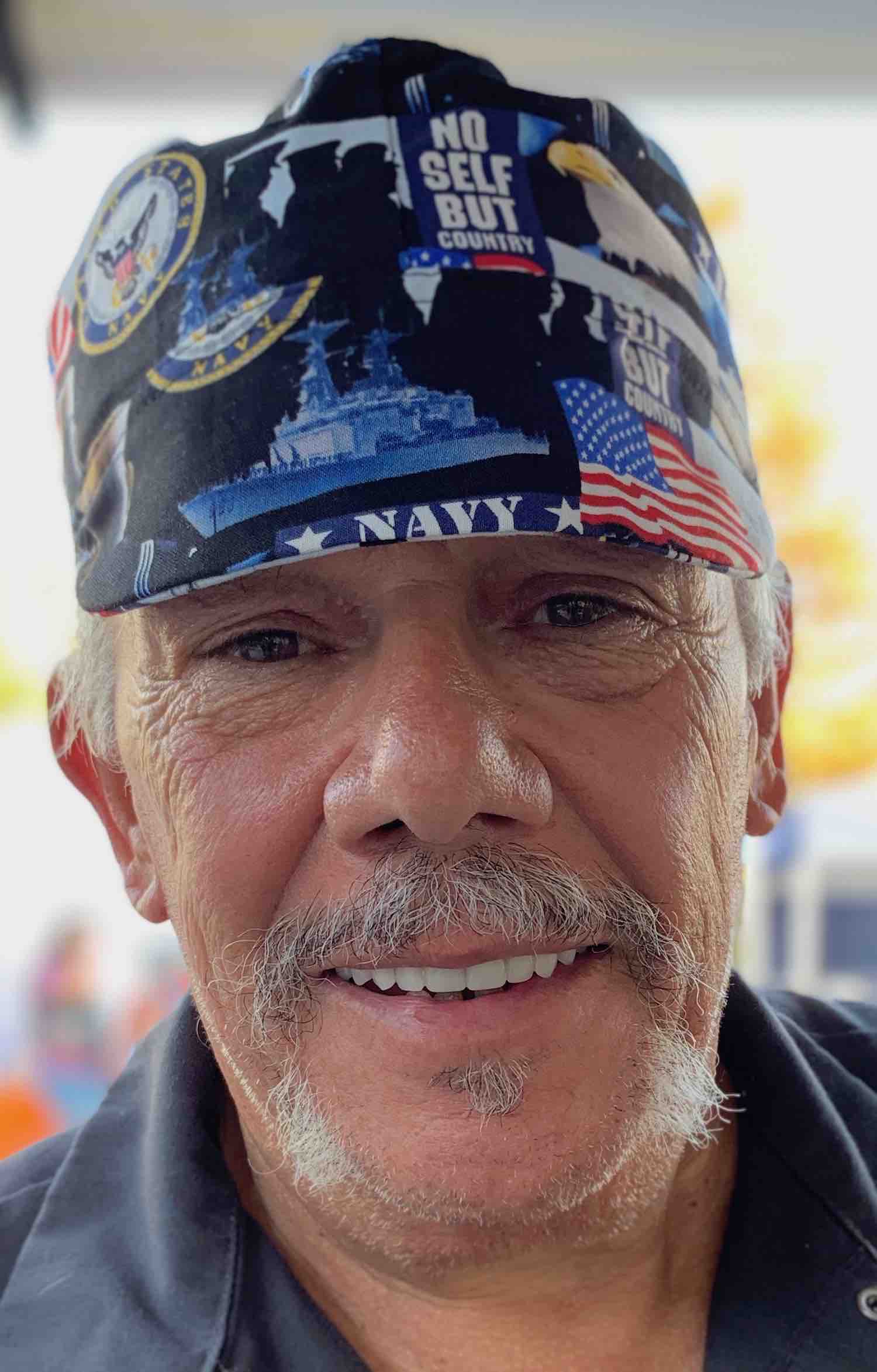 The 30-year Army veteran stopped to check out the welding caps at the Lone Star Rally in Galveston TX. Glad to capture his picture.
U.S. Military Welding Caps
Check out the various branches. A portion of these sales provide a donation to the USO which helps military families. Press here to learn more about the organization.
"I absolutely love the welders caps I purchase from Creative Head Wear. I currently own 6 of them. I wear them for all my workouts since I do not like head bands. There are lightweight and washable. I get comments every single time I wear one of the hats!"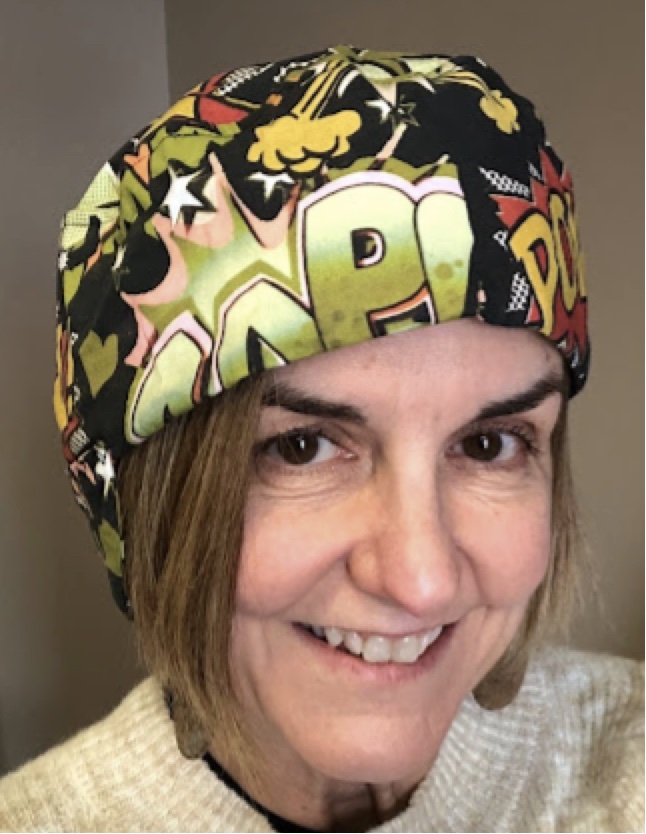 Welding Cap Style
The welding cap is a round, kufi style cap with the addition of a protective flap. Breathable, single-layered, round crown eliminates worries about getting a sore spot on the top of your head like sectioned crown caps do with all those seams bunching.
Double Layer Flap
Soft, double-layered, curved flap that shields against heat. The bill is attached along the deeper side of the cap. You'll appreciate getting a 1/2″ more coverage.
Staying Power
Comfortable, wide circle of elastic is enclosed in the band and it really improves the staying-power of the cap.
Three Layer Band
Three-layer band keeps you comfortable.  The inner layer of wicking draws moisture away from your skin. The enclosed, absorbent terry helps keep the sweat from dripping in your eyes. The outer layer is the welding cap material. Really feels like it is padded!
Many have wicking that is comfortable CoolPlus® (Macro International Pattern #Micro-655). Content: 55% CoolPlus® + 45% polyester. 
Four Sizes Available
Get a comfortable fit and feel. Get the coverage that works better for your preferences and needs. 
Adult M 

has "22" on the label and is Adult M / Circumference – 22″ / 7 Hat Size

Adult L has "23" on the label and is Adult L / Circumference – 23″ / 7-3/8 Hat Size. Get this one if you are not certain what will be the best size. It is our most popular size.
Adult XL has "24" on the label and is Adult XL / Circumference – 24″ / 7-5/8 Hat Size
Adult XXL has "25" on the label and is XXL / Circumference – 25″ / 8 Hat Size
Made in the U.S.A.
All of Welding Caps—Made in the USA
All of our welding caps are original designs by Rawls-Riley Creations. They are 100% made in the United States of America.
How Do I Measure My Head Size?
Press here to learn how to measure your head. It will help in selecting the best size for you or to give as a gift.
Custom Requests
Reach out and let us know what you are thinking about and we'll be happy to create something special just for you. Please call 913-397-8071 or email [email protected].
Press here to see about the custom headwear made for other customers.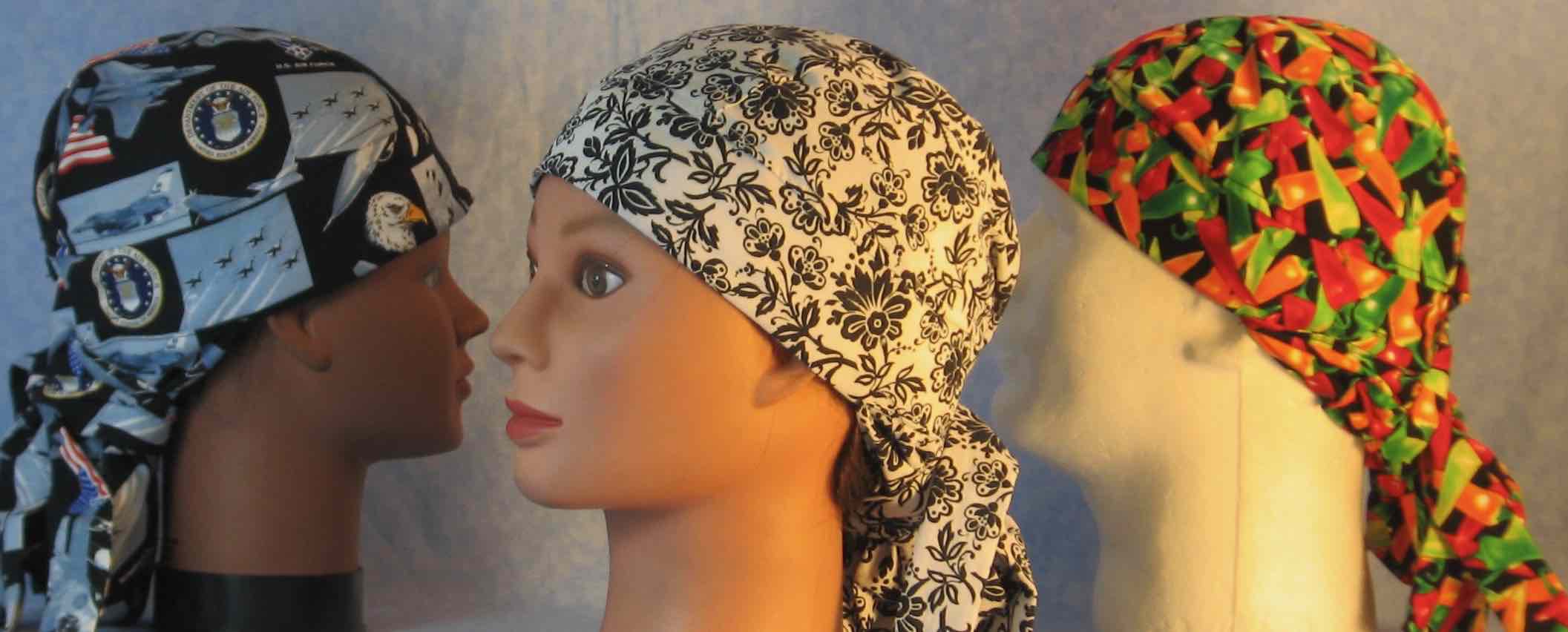 Bad hair days are the pits! Get a hair bag® do rag to keep it clean, contained, and out of the way. The hair bag is a do rag style with a pocket on the back for your long hair. Don't cut it. Bag it.
Sizes available. Check out the hair bag do rags by pressing here.