Headbands are wide and made from stretchy materials for more staying power. An active lifestyle accessory. Go wide when coverage matters… motorcycling, bicycling, exercising, convertible rides, dance, soccer, walking the dog, letting those bangs grow out, or darn those pesky wisps and need it out of my way for the moment. Squish it or fold it when narrower works and a bit of color is just the look you're seeking. Great for those who don't like hats!
Comfortable Headbands with Staying Power Width
Check out the available headbands below. If you don't see what you are looking for, please press 
here
 to contact Rawls-Riley Creations for assistance.
One size shown – Click title to see all available sizes and more details – Click image to see all images
Headband that Did Not Move!
The lady bought the rainbow colored headband that looked like it had been painted in oil because it was so shiny at the April Cassoday bike ride in 2017.
She came back to our next Cassoday ride wearing her headband with a friend in tow. She was trilled to share with her friend how she had used her headband on motorcycle rides and it did not move!
Unfortunately, the only headband left in that material was not in a size that would work for her friend, so she selected an orange headband in a swim knit.
Press here for the orange swim knit headbands and here for the swim knit headbands.
It Worked on Motorcycle Rides
At the same April 2017 Cassoday ride, a lady with short hair also preferred to wear a headband when she was motorcycling. She was pleased to find the rainbow colored headband with silver sparks.
The next time we saw her was at the ABATE of Kansas Spring Fling Bike Show in Emporia. She was wearing her headband while she patiently waited for the other ladies to select the same bright headband. She happily shared with them how well it had worked for her. Each of the three ladies selected the same headband in their appropriate sizes, too.
Gotta Get Another Headband
She could not pass on getting a second headband and went home from the Spring Fling with the rainbow colored headband with the painted oil look.
Headband Did Not Budge on Long Motorcycle Ride
Kristi was so tired of having her headbands blow off in the wind as she rode her motorcycle, she couldn't take any more! She had gotten one of our earlier headband styles that she still had, but for motorcycle riding she really needed a wider headband. One that would grip her head and not budge was what she really had to have. It would be OK if it could be folded down to a more narrow headband, too. She was glad to learn we added those in the spring of 2016.
Kristi has a small-sized head, so she went with a gray headband that was in a ribbed knit in the Youth L-XL size. She liked the solid color and knew she could wear it with several things.
At the same time, she ordered a custom one in black. When she picked up the black one, she reported, "This weekend we went on a ride that was about 150 miles. I put on my gray headband and it was great. It did not budge!" Now, Kristi will be able to ride her motorcycle with confidence knowing she will not have to worry about her headband blowing off.
Press here for the Youth L-XL size headbands like Kristi wears. Kristi K.
Available in Sizes
Sizes are available for a good fit.
Headbands in Youth S-M Size
The smallest headbands come in the Youth – S-M / 19″ Circumference / 6 Hat Size (1 size). These really are small headbands. Actually, too small for most heads.
Good Fit for a Really Small Head
The girl was drawn to the headbands at the Arizona Bike Week and she quickly selected one that had the colors she wanted. I suggested that she try it because there are different sizes. Good fit. The right size for her. She and her mom had just gotten to the event, so they needed to look around. They stopped back by and she found the headband she liked. So nice to get her picture.
Press here for the Youth S-M size that she selected.
Headbands in Youth L-XL Size
The most popular, youth-sized headbands come in Youth—L-XL / 20″ Circumference / 6-3/8 Hat Size (1 size).
We Need Youth-Sized Headbands
The gals were happy to see sizes in the headbands at the Bikes, Blues and BBQ Rally in 2017. They correctly guessed it would be a youth-sized headband that they would need, but it definitely was not going to be the smallest youth size for them. After a quick check to confirm, they took some time to consider all of those available in their Youth L-XL size before leaving that evening. The next day, they returned to get some and posed for a mother daughter photo.
Press here for the Youth L-XL size that they selected.
Headbands in Adult S Size
Headbands in the Adult S / 21″ Circumference / 6-5/8 Hat Size.
It was the colors in the headband that made it look so nice on her. She was pleased to have the picture taken with her guy at the Lone Star Rally in 2017.
Press here for the Adult S size that she selected.
Mom and Daughter Headwear
Mom was so pleased to be out motorcycling with her daughter for their initial ride! The fun-filled day included a stop in Cassoday at our tent. She had come with a friend and her daughter. The daughter was drawn to the skull cap display where a brightly colored skull cap had caught her eye and she found it was a good fit. Before they started the trip; they had convinced Mom to get a headband, but she quickly spied there was a headband in the same material.They could not resist having the friend snap a quick picture. That was all it took! They were pleased to pose for one more mother daughter picture with their new head-wear.
Press here for the bright, rainbow blocks headband like Mom got. Press here for the Adult S size headbands that she required. Press here for information on the skull caps that her daughter got.
Convertible Rides Headband
She could not pass on taking a look at the wide headbands at the Topeka Food Truck Festival. She explained her husband takes her for rides in the convertible and, while he does not have a problem, she dislikes the way it really messes up her hair. Her hair is cut short, but still it gets messed up. She has tried hats and they are forever blowing off. She tried some on and decided the adult small-sized headband for its snug and hugging feel on her head in the performance knit would be just right. It was the pink grid one with the sparkly colors that was the perfect choice for her rides.
Press here for the Adult S headbands.
Headbands in Adult M Size
Headbands in the Adult M / 22″ Circumference / 7 Hat Size. This is typically the one-size-fits-most size.
Gotta Get More of These Headbands
She made sure she found me at the Lone Star Rally in 2017. She was so happy with the headband she got in 2016, she made sure she let me know and quickly found her size for one this year. Glad to get the picture  of her in her new headband.
Press here for the Adult M size that she likes. Press here for the black with silver V's she got in 2017.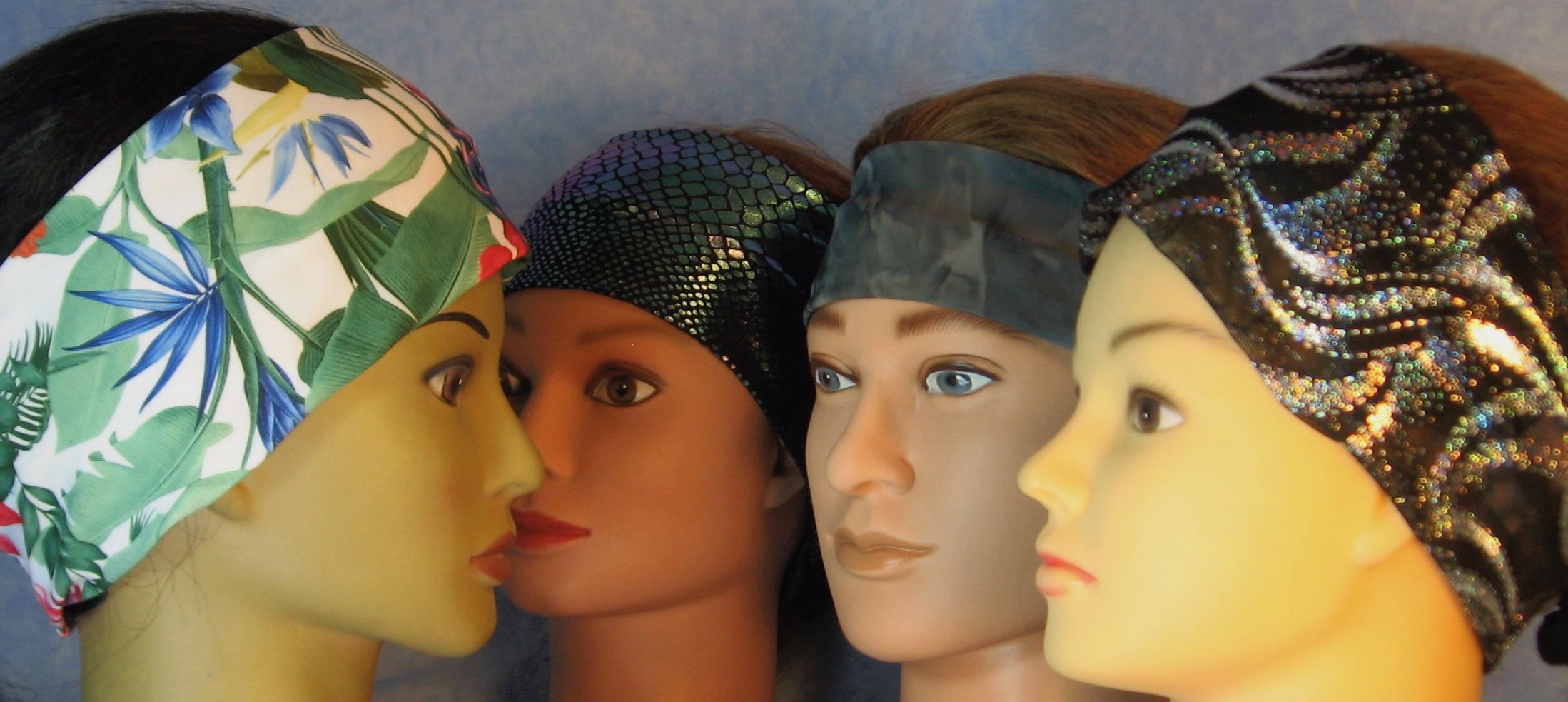 Just a Band
Simple headband. It's just a band that fits all the way around your head. Doesn't contain any extra stuff inside.
Flat Back
The headband's joint is covered by a sleeve that is not as wide as the headband. It's made with the same material as the headband which is folded down to size. This makes for a comfortably, flat back.
Active Lifestyle Must Have
It is the material and it's construction that makes these headbands flexible. Knits, performance knits, and swim knits work. Most have the stretch, secret spandex included in the content. Great for those with an active lifestyle. 
Staying Power Width
Headband is wide enough to securely stay around your head. Just scrunch or fold it when narrow is the look you want.
Sizes
Sizes make these headbands fit well around your head.
Made in the U.S.A.
All of Our Headbands—Made in the USA
All of our headbands are original designs by Rawls-Riley Creations. They are 100% made in the United States of America.
How Do I Measure My Head Size?
Floppy hats are what can be considered a one-size-fits-most. Thus, these hats will not necessarily work for all people. Find out if they will work for you. Press here to learn how to measure your head. It will help in selecting the best size for you or to give as a gift.
Sold Archive
Press 
here
 to see the archive of sold headbands. Yes, some of them were custom headband requests.
Custom Requests
Reach out and let us know what you are thinking about and we'll be happy to create something special just for you. Please call 913-397-8071 or email [email protected].