Fedora Hat Bands
Fedora hat bands are a band with securing loop for fedora and floppy hats. Our hat bands are made in extremely limited quantities, so the hat and band combination you make will truly become a unique hat. Likely a one-of-a-kind hat.
This is only the hat band and does not include a hat. Get a fedora hat band for use on a hat you already have or for use on a new fedora or floppy hat from us.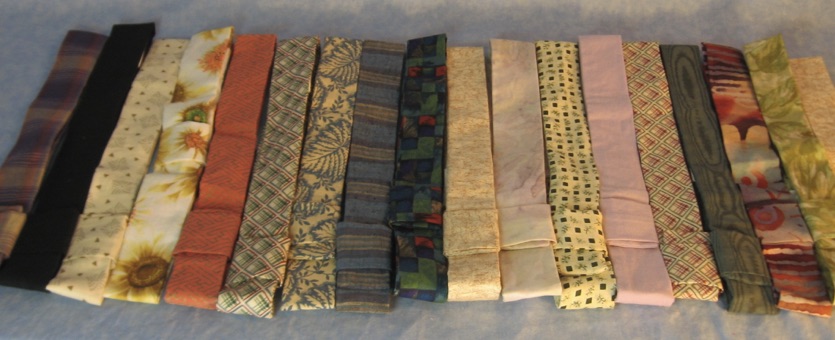 Fedora Hats and Bands in Virtual Festival
Rawls-Riley Creations created a Virtual Festival on fedora hats and bands. Please check it out to see the hats and bands at the show.
Hats for Fedora Hat Bands
The hats are available in different styles and are sold separately. Select your hat now and it will be shipped as a pair with the hat band.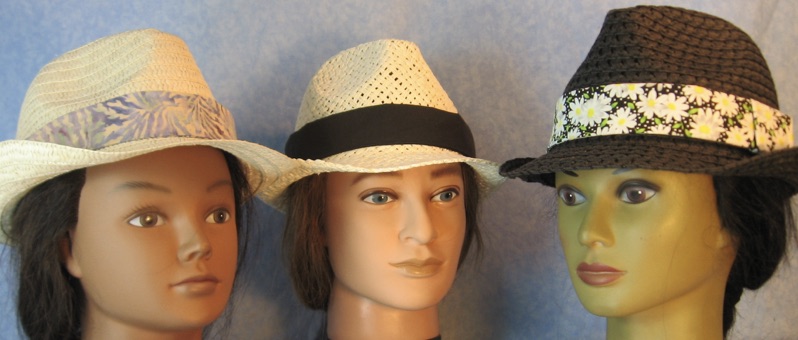 Fedoras have a shaped brim that curves down along the front and up in back. The crown is creased and its front pinch makes it easy to grasp to put the hat on and take it off. A distinct looking hat.
Hat bands do not include a hat. If you want to use your band on a fedora, select the fedora now. They will be shipped as a pair. Press here for the fedoras.

Foppy hat brims really provide a lot of shade. Floppies are great for sunny days.
Hat bands do not include a hat. If you want to use your hat band on a floppy hat, select the hat now. They will be shipped as a pair. Press here for the floppy hats.
Available Fedora Hat Bands
Check out the available fedora hat bands below. If you don't see what you are looking for, please press here to contact Rawls-Riley Creations for assistance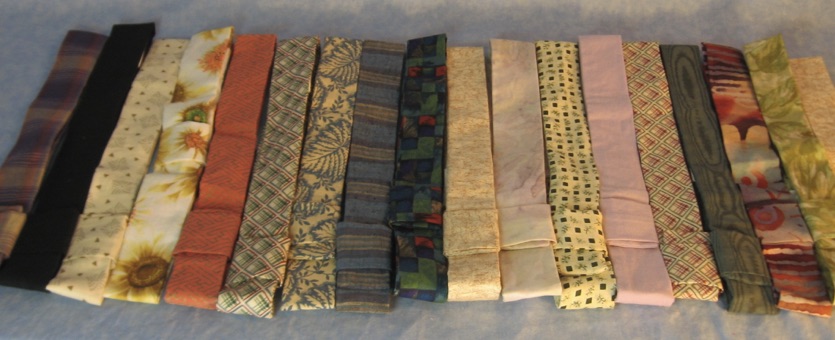 Fedora hat bands are bands with a securing loop. This hat band fits most hats.
These have Velcro fasteners that are used to affix the band to the matching fastener on our fedora and floppy hats. This makes them interchangeable with the hat and secures them so you will not loose your hat band to the wind.
Should you be interested in getting one or our hats, visit the following pages and place a separate order that it. The information on those indicates the hat will not be shipped without a band, so proceed to purchase the band before placing the order for any of those hats. Press here for the fedora hats and here for the floppy hats.
Can I Just Get a Hat Band?
Absolutely. The hat bands are sold individually. 
What About that Fastening Velcro?
I'm planning to use the hat band on my hat. It does not have any fastening Velcro on it. Will this hat band still work? Yes. Get the band the way you want it. Simply set the "Fastening Velcro Option" and get your band with or without the fastening Velcro.
Custom Requests
Reach out and let us know what you are thinking about and we'll be happy to create something special just for you. Please call 913-397-8071 or email info@Rawls-RileyCreations.com.
Press here to see about the custom headwear made for other customers.
Made in the U.S.A.
All of Our Fedora Hat Bands —
Made in the USA
All of our fedora hat bands are original designs by Rawls-Riley Creations. They are 100% made in the United States of America.