Newsboy caps with a draped extra big baggy six section crown. So big it slouches! Go big and maximize the look. Definitely not your typical newsboy.
These extremely flexible newsboy caps have a six-section crown with a soft bill that helps avoid pesky sun glare may be worn in many ways and then simply crunched for quick stowing in a pocket or coat sleeve. The packable newsboy hats squeeze into a suit case, too. They always retain their original shape. Easy throw in the wash with other clothes and no iron care makes this newsboy hat a nice addition to any active life-style.
Warm fleece newsboy caps are good for walking the dog, a quick trip to the store or getting home from the gym, shoveling snow, skiing, sledding, tailgating and catching a football game or simply hanging out with friends. Made from 100% fleece, the newsboy caps are not ruined by rain and snow simply brushes off so you will always look fine.
Warm Newsboy Caps with Baggy Crown and Bill
Newsboys in Virtual Festival
Rawls-Riley Creations created a Virtual Festival on newsboy caps. Please check it out to see the newsboys at the show. 
Check out the available newsboy hats below. If you don't see what you are looking for, please press here to contact Rawls-Riley Creations for assistance.
Get Your Newsboy Cap
The newsboy cap was popularized in the late 19th through early 20th centuries and takes its name from the young boys who's job was to make the final delivery of the daily newspapers. Often, it was a first job for boys and they were frequently seen wearing some sort of flat cap as they delivered newspapers. A newsboy cap style begins with the basic flat cap and balloons the sectioned crown to achieve a fuller look. In the early 20th century flat caps and newsboys hats were used by laborers in England and the United States. They also enjoyed popularity, with those who could afford the luxuries of leisure activities such as golfing. Thus, the newsboy caps truly fill the unique role as the hat of choice for both work and leisure.
Newsboy Hat Gets Included in Baker Boy Hat Category
Baker boy was name that began to show up in the Fall of 2017 as some designers included them in their lines. Under this moniker, the caps lean toward nostalgia and strive to become a sweeping and comprehensive collection of hats. The newsboy cap got lumped into the style category.
Wear It Your Way
Depending upon how you prefer to wear hats; these extremely flexible, newsboy hats may be worn like a typical newsboy cap or baggy for a slouchy look.
Traditional Newsboy Look
Select a newsboy hat size that will let it rest on the head just above the tops of the ears and along the widest part of the head to get a typical newsboy cap look. This is where a ball cap would ride, so it is easy for people to know what size that would be for a comfortable fit and Adult M or 22″ circumference is consider to be the one-size-fits-most size. 
By wearing the newsboy cap in this way; the extra full crown may be dropped off the back of the head or draped toward the front. Being draped, strong winds will tend to play havoc with the crown and it is highly like to become toppled toward the back. Simply drape as desired.
Sandra R-M., Owensboro KY
The purple waves, newsboy cap on Sandra R-M shows the hat worn like a traditional ball cap, resting above the ears and settling horizontally around the widest part of the head. The bigger crown is draped toward the back of her head.
Karen W-R., East Peoria IL
Karen saw us at the Decatur Celebration and was happy to learn about the available sizes in the head-wear. She selected the black and white plaid newsboy draped the crown toward the front for an artist-like look.
Baggy Look
Go big! For a baggy look that gives a slouchy appearance and lets the newsboy hat form a halo around the face, get a newsboy cap that is one or two sizes bigger than you might typically like. Yes, the hat will be big. Think headband when putting the hat on and position the band around the head like you would do when you put on a headband. Once on; pull the band over the ears as desired and give the extra full crown a brush down along the back of the head.
Big Hair Newsboy
Bob Marley popularized the rasta cap and it is a favorite to keep dreadlocks contained.  This newsboy cap's extra full crown is big, so it will hold lots of hair like a rasta cap. Big, wavy hair can get unmanageable some days, so tuck it into the extra full crown and no one will know what a bad hair day it really is.  On better hair days, the bill gives you a handy way to pull off the newsboy hat and let your locks free.
Keep Hair Out of the Way
Love long hair, but here it comes again. Another gust of wind, hair tossed into your face and up goes the hand to brush it out of the way. And, if the wind is steady, it will take more than a quick brush of the hand to keep the hair out of the way. Okay, maybe just stop and turn your face toward the wind for a reprieve. That darn wind makes you wonder how much more of the hair-in-the-face aggravation you can stand.
If you can relate, by all means get your newsboy hat in a bigger size and let the extra full crown drape off the back of your head. It will have plenty of room to tuck your locks into the crown so it will stay out of your face.
Good for My Head Shape
Gotta go with the bigger size and let the baggy crown drop off the back. With the shape of my head and face, I think it's flattering and I get lots of compliments as I wear it around town.
Guy Newsboy Hats for Cold Days
It's never too early to think of Christmas, as this Santa can attest.  He was so pleased to get a red, newsboy hat at the Fall festival. He was getting ready for the cold days ahead when he will be spreading cheer to lots of boys and girls. Made of 100% fleece, the newsboy hat is a warm hat.
Diane F-O., Kansas City KS
Bill Up or Down?
Flexibility applies to the bill of this newsboy cap, too. Photographers will appreciate begin able to get the bill out of the way while capturing pictures. Just turn it up. The picture of Diane in her blue tie dye, newsboy shows she likes wearing her bill turned up.
Hey, wear it any way you want. It's a fun cap.
Internet Shopping for "Fleece Newsboy Hats"
Internet shopping takes a pair of newsboy hats to New York and it was a trill to see the pictures that Jo B. sent with her email. "Your company was the only one that not only sold fleece newsboy hats but ones that were machine washable, reasonably priced and available in a variety of sizes and colors.  I look forward to doing business with your company again and will recommend you to others.  I've included a few photos of me in the two hats (brown white knit on black and dark gray, size: M) that I purchased.  Thank you."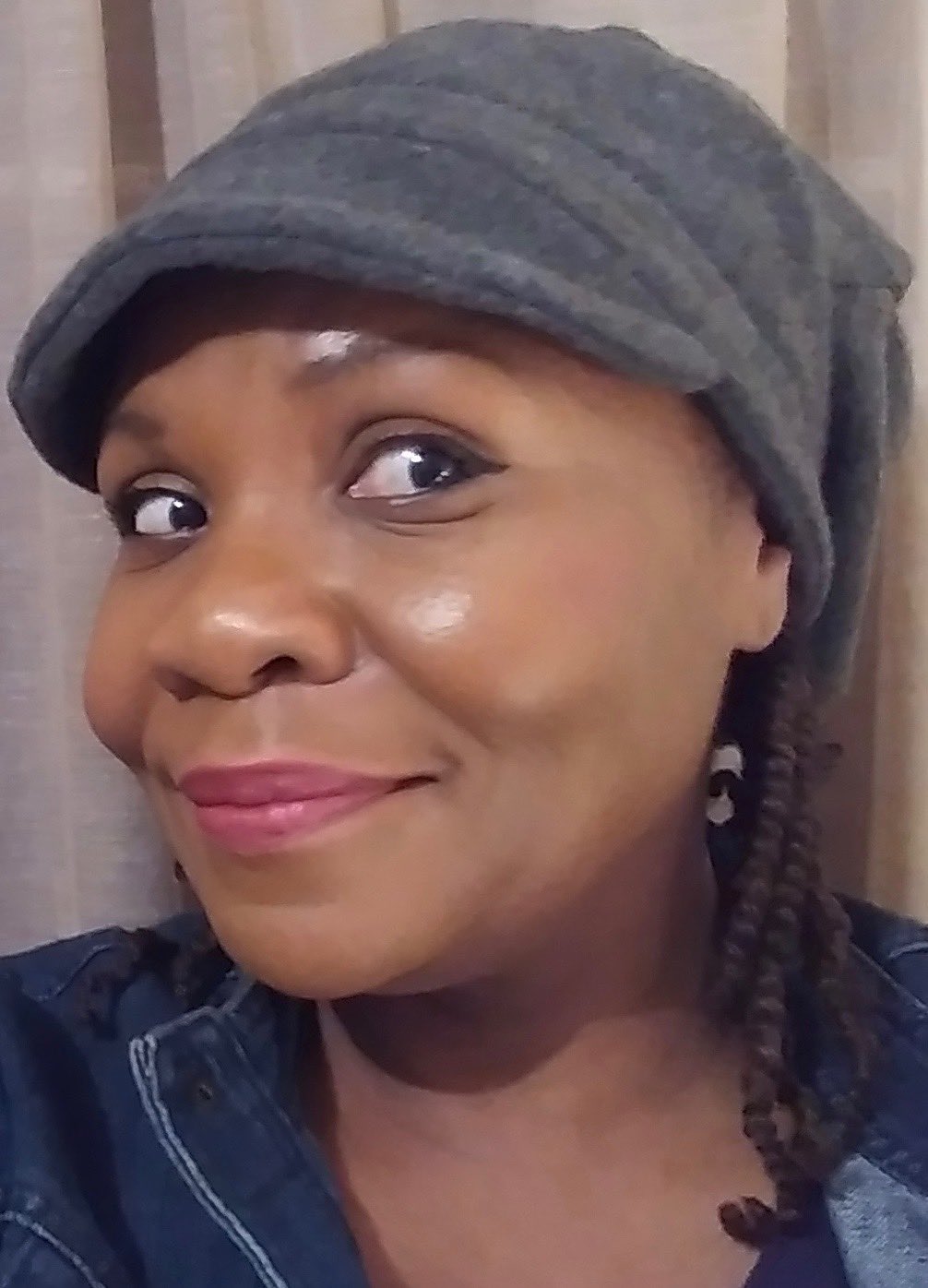 Newsboy Hat Gifts
Tod liked the newsboy hat style so well, he bought one for each of his daughters and his wife. He got a nice burgundy one, royal purple one and one with purple waves. Having three; they could decide who wanted to wear what color that day. He shared the pictures of one of his daughters in the burgundy one.
"If there is a fault to the hat, it might be that the hat is a warm hat. Sometimes, too hot." 
She saw the newsboy hats at the Mount Vernon Apple Butter Makin' Days and stopped to try them on. The cold came early in the Fall of 2018, so the warm fleece hats made walking around at the show more bearable. She selected one of the goes-with-anything, white newsboy hats.
She stopped by the next year and was happy to report she loved this hat. 
At the Souix Empire Arts & Crafts Show, she was shopping with her mom. It was the newsboys that captured her attention. She was wearing a plain, knit beanie, but liked the way the newsboy looked on the mannequin. With several sizes to select from, she knew she wanted a bigger one. The baggier the better and it really was the biggest size that she selected.
She looked outstanding in her black newsboy.
Newsboy Style
Newsboy cap with a draped extra big six section crown and bill. It has a slouchy look. Definitely not your typical newsboy! 
Wear It Your Way
Depending upon the size you select, the newsboy hat may be worn sitting on the head like a ball cap or lower around the head like a headband following the hairline and covering the tips of the ears.
Quick On/Off Bill Cuts Sun Glare
The soft bill makes putting on the newsboy easy and it becomes a quick way to pull the hat off. On sunny days, the bill helps keep the bright sunlight out of your eyes.
6-Section Crown
The baggy crown has six sections so it has a hexagonal appearance which provides a  distinctive halo effect.
Lightweight Warm Hat
100% fleece makes these newsboy caps warm. Fleece is a good alternative to wool for its warmth when allergic to wool, sensitive to wool's texture and it is a fraction of the weight of woolen material.
Packable
Fleece caps retain their shape. Packable in a pocket or suitcase. While the newsboy is a big hat, it easily folds up for stowing in a coat sleeve.
Water and Snow Shake Off
Fleece is made from polyester. It is "hydrophobic" which means it does not attract moisture. In fact, it will only hold up to 1% of its weight in water. Good news when caught in a quick rain shower or snow. Simply brush off snow and shake off rain. The newsboy always retains its shape. Do plan ahead for down pours as umbrellas still are suggested in times like that.
Most newsboys are made in fleece.
Machine-Washable Newsboy Hats
Newsboy caps are 100% machine-washable and machine-dryable.  Machine wash in cold water with mild detergent. Machine dry on low or air dry. Do NOT iron. They look great wash after wash. The durable, 100% fleece retains it shape and color. 
Sizes
Sizes make these newsboys fit well around your head.
Adult M 

has "22" on the label and is Adult M / Circumference – 22″ / 7 Hat Size

Adult L has "23" on the label and is Adult L / Circumference – 23″ / 7-3/8 Hat Size
Adult XL has "24" on the label and is Adult XL / Circumference – 24″ / 7-5/8 Hat Size
Adult XXL has "25" on the label and is Adult XXL / Circumference – 25″ / 8 Hat Size
Adult XXL has "26" on the label and is Adult XXXL / Circumference – 26″ / 8-1/4 Hat Size
Made in the U.S.A.
All of Our Newsboys—Made in the USA
All of our newsboy caps are original designs by Rawls-Riley Creations. They are 100% made in the United States of America.
How Do I Measure My Head Size?
Press here to learn how to measure your head. It will help in selecting the best size for you or to give as a gift.
Custom Requests
Reach out and let us know what you are thinking about and we'll be happy to create something special just for you. Please call 913-397-8071 or email [email protected].
Press here to see about the custom headwear made for other customers.