In your search today, you were drawn to Rawls-Riley Creations. Welcome. Glad you made it.
It was a search like your's back in 2013 at the Maple Leaf Festival in Baldwin City that lead several of those visitors to leave with headwear they could use on that cooler day. It was the perfect cap. Just what they wanted. There was a fit between what they wanted and what Rawls-Riley Creations delivered that worked. Let's work together to find the headwear that will be just what you are looking for today.
Bikers Gotta Have What Works
After a few years on the back of my husband's motorcycle, in 2000, I decided to take a class and learn to ride on my own. I passed on a Honda Rebel. I'm short so that worked. Alas, that was not what we had that he was thinking I could surely ride. With high hopes of being a successful rider, the first trip to the school parking lot with that bike, I could not even keep it up. Too much tip toeing for me. Not to be deterred from riding, I searched the sale ads and we came home with a Honda Rebel. He traded for a bigger bike he was really wanting and we were set.
As a passenger, it's fine to occasionally brush those wisps of hair out of your face. Definitely not so as the driver. I worked with purchased do rags for a bit, but figured I could surely make my own. It took a bit to tweak it, but I settled on a design that functionally worked. I did not have to settle for what I could find. I could definitely make exactly what I liked.
Do Rags
I decided to try to sell my do rags. Honestly, my design was a bit too goofy for others to actually go with my original do rags. I was doing Swedish weaving for the band and patchwork for the tail. It wasn't until I ditched the excessiveness weaving and made the patchwork in the same material as the rest of the do rag that my do rags started to sell. The bikers I know wanted to have something they could use and were supportive enough to tell me what they did not like so I could deliver what works. I make do rags in four sizes, so the bikers we serve get a do rag that works for them. Press here for the do rags.
Custom Do Rags
Once you have your own bike, it doesn't take long to dive into all those add-ons that could make it just a bit more like you really want. You name it, it's out there. Make it faster, more chrome, louder pipes, better saddlebags or even a trunk for trips, a windshield bag to hold the gloves and spare do rag for those times you get caught in the rain, and the list grows the more you use the bike.
Customization does not stop with the bike. It extends to what you wear when you ride. Change your bike and you'll change what you wear to match. Dew rags top the list to complete the look. There are lots of off-the-shelf do rags available. Check out our available do rags by pressing here.
It was custom requests for do rags that began to roll in as bikers learned I actually make the do rags and they were really talking directly with the maker. I would take my do rags to shows and it would not be uncommon for me to hear, "I don't see what I'm really looking for." Yes, even with several to choose from, the search for the perfect do rag never really stops. In the early days, I would take a few bags of material to the shows and immediately offered to have the people look through them to find something they wanted. This gave them the possibility to get something they would like. A special doo rag that would work to meet their need and match their bike.
These days, custom requests are easy and truly work for getting just what you want to complete the look you need for your ride. Do reach out and let me create the look that will be outstanding on you. As long as it is not a license item you need, if the material is out there, we can do this together. You deserve it.
Custom Requests
Reach out and let us know what you are thinking about and we'll be happy to create something special just for you. Please call 913-397-8071 or email [email protected].
Press here to see about the custom headwear made for other customers.
Not Gonna Cut My Hair Off
Tell me you've heard the only way to deal with those issues is to cut it off and I know exactly what you are dealing with. I like long hair. Always have. It's me. I've braided it, used hair holders, wrapped it, used barrettes and headbands. I will deal with it rather than cut it off.
It was when the gal saw me at a show and we had the time to talk about my making the headwear that she pulled off the bandana she had on to show me just how bad it really was for her. Oh, my! She had lots of bobby pins to try to hold her hair up and I understood. With her super fine, cobweb-like, hair texture she had a bit more of an issue to deal with for her hair than I had with mine when she wanted to go for a ride. Those are sharp.
She had an idea of what she thought might work. I knew I made the do rag and I thought there surely would be a way to make something that would be better for her. I created the hair bag® do rag for her. The next time I saw her, her long hair was flowing behind her and she was pleased to let me know the hair bag® work.
Bag It in a Hair Bag
® Do Rag
The hair bag® do rag is a do rag with a pocket for longer hair on the back. It is used by those with long hair to keep it clean, contained, and out of the way. Think healthcare, food service, meat packing, boating, bicycling, motorcycling, hiking, amusement park, welding, painting, wood working, and even scuba diving. These work for the super fine hair, straight hair, curly hair, and come is sizes. Your hair just needs to be long enough to go into the pocket. We will have one to work for you or can make one that will give you the look you want. 
Definitely don't cut it. Bag it. Press here for the hair bag® do rags. 
Practical Headwear
Handcrafted Quality from Kansas City
Rawls-Riley Creations LLC makes quality handcrafted headwear that is designed in Kansas City and made in the U.S.A. The practical headwear is worn regularly by guys and gals as their needs change for the seasons, work, recreation, health, preferences, and lifestyle.
Headwear is made in very limited quantities and most are one-of-a-kind unique creations.
Shop and Learn About the Headwear
Shop the Headwear Collection
Like your headwear and you will wear it. Hope you got something you really love. Just in case, our 30-day return or exchange is easy.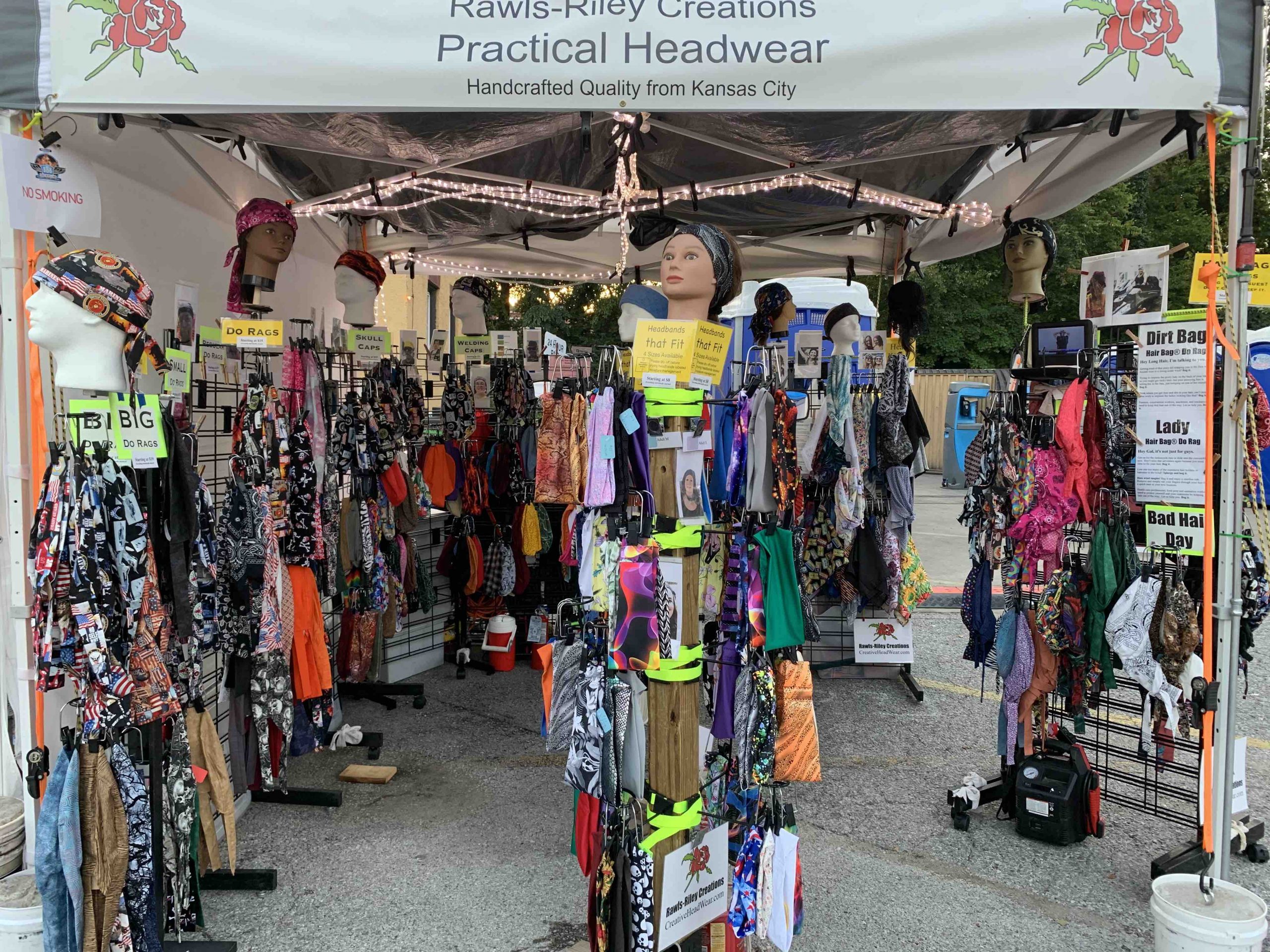 Headwear is sold at shows. Catch us at a show to see all the new headwear and try it. Talk with us for advice on what may work best for your needs. 
Check out the pop-up show schedule by pressing here. 
Custom Requests
Reach out and let us know what you are thinking about and we'll be happy to create something special just for you. Please call 913-397-8071 or email [email protected].
Press here to see about the custom headwear made for other customers.